US Forces in the Philippines During World War II
During the colonial period, the US maintained a military presence throughout the Philippines, establishing military and naval bases near Manila, at Corregidor and throughout the archipelago. In the 1910s, the U.S. Army formed a new unit, the Philippine Scouts, who by the 1920s outnumbered regular Army soldiers in the Philippines. Thousands of Filipinos also joined the U.S. Navy in the 1920s and 1930s. After the Tydings-McDuffie Act of 1934, the Philippine Commonwealth also established its own armed forces, the Philippine Commonwealth Army, designed and trained by the U.S. military. In July 1941, in anticipation of war with Japan and the need to defend the Philippines, President Roosevelt combined all of these forces into one: United States Armed Forces of the Far East (USAFFE). All USAFFE soldiers now served under one flag, under the command of General Douglas MacArthur.
Against this force, the Japanese sent more than 300,000 soldiers to invade the Philippines starting in December 1941. After the fall of the Philippines in May 1942, thousands of Filipino guerrillas resisted Japanese occupation, cooperating and communicating with the U.S. military for the duration of the war. At least 100,000 guerrillas fought in the war.
U.S. law guaranteed that all members of the U.S. Armed Forces during World War II would receive equal pay. The Nationality Act of 1940 promised that foreign nationals serving in the U.S. military would have the right to be naturalized as citizens. It also promised that veterans would receive healthcare and hospitalization if they sustained injuries while fighting, and that they or their widows and children would receive pensions after their service. Like all people serving in the U.S. military during World War II, Filipinos believed they would be guaranteed these and other veterans benefits.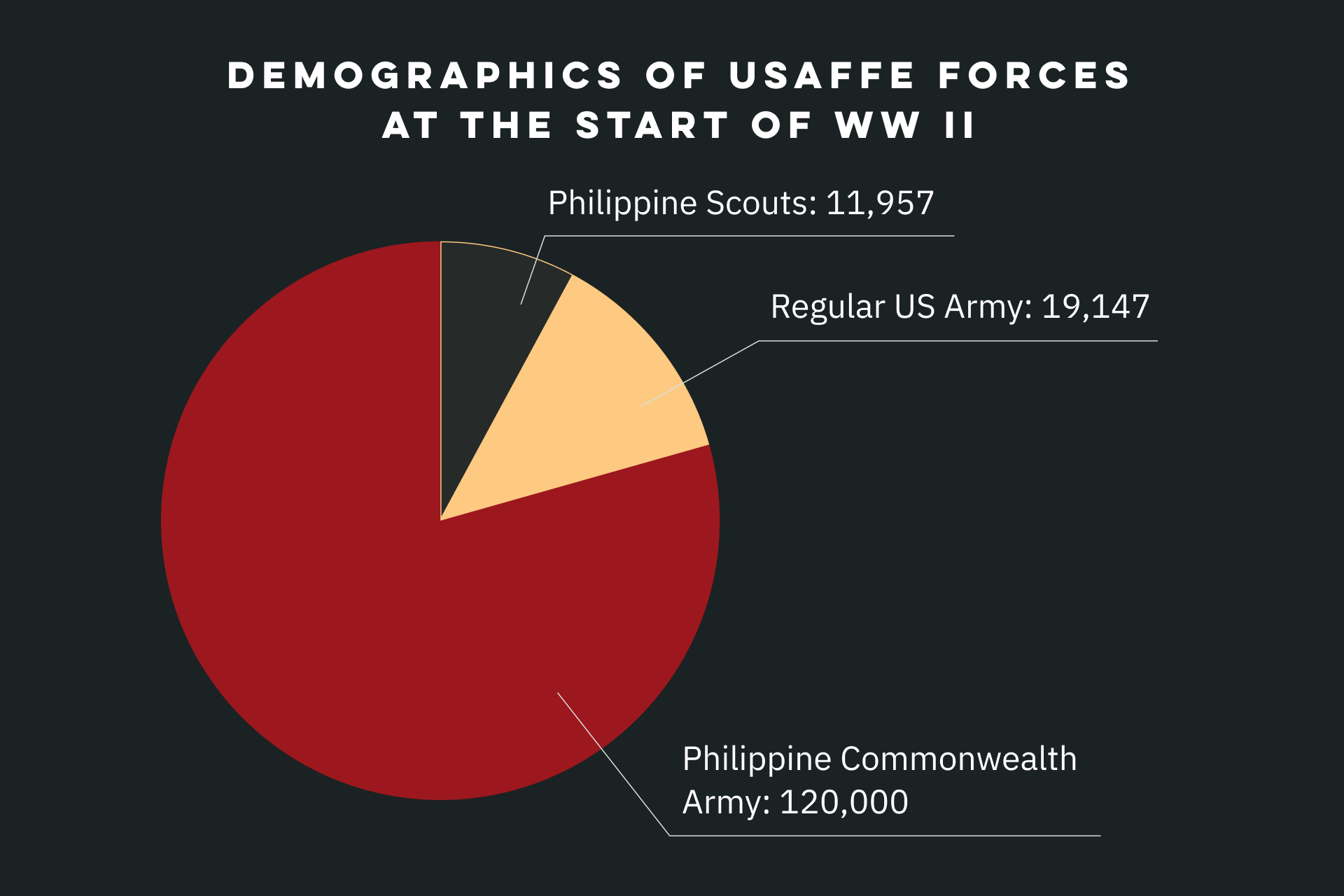 What percentage of U.S. forces in the Philippines were Filipinos? 

How important were Filipino service members to the U.S.'s plan to defend the Philippines against possible Japanese invasion?

What expectations did Filipinos have in return for their service in the U.S. military?