In 2021, an online education resource will be created to help teachers in the classroom integrate the Filipino American story into their curriculum. This resource will cover topics such as World War II and the Filipino civil rights effort to seek recognition and benefits in the decades that followed. Educators and students will be able to analyze primary source documents related to the experiences of Filipino veterans, grassroots activists, and the legislative process. Lesson plans and activities will be developed to align with curriculum standards at the state and national level.
There will be a series of Explainer activities to allow educators to break down large documents into digestible pieces of content. This will make it easier for teachers to bring these primary sources into the classroom and engage students in the story of Filipino and American Veterans.
For Educators will include:
An overview outlining the resources available and how they can be used.

Primary source Explainers, allowing educators to engage students directly with primary sources, supported by contextual information and prompts for reflection.

Lesson plans that provide teachers with step-by-step guides for engaging students in the classroom and at home with the Oral Histories, the graphic novel, and the exhibition.

A primary source document archive where educators can access a rich repository of digitized documents.
Our curriculum development team will identify student learning outcomes that align with existing curriculum standards. They will select key primary source documents and materials to feature in Explainers. The curriculum development team will also write lesson plans.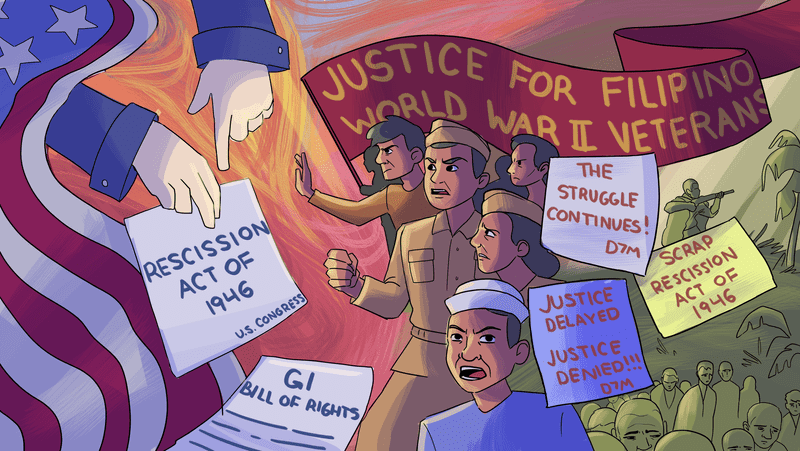 Explainer: The Rescission Act
The Rescission Act of 1946 is a United States law that retroactively annulled benefits that would have been payable to Filipino troops on account of their military service under the auspices of the United States during the time that the Philippines was a U.S. territory and Filipinos were U.S. nationals.
QUESTIONS
1. Can you identify the paragraph in this document that reflects the reduction in budget associated with denying Filipino Veterans benefits?
2. Why do you think Congress overruled President Truman's veto of this act? What factors would contribute to their decision?
3. When President Truman reluctantly signed this act into law, he stated that it does not relieve the U.S. of our "moral obligation" to Filipino Veterans. Why do you think he felt that the U.S. had a moral obligation to Filipino Veterans?